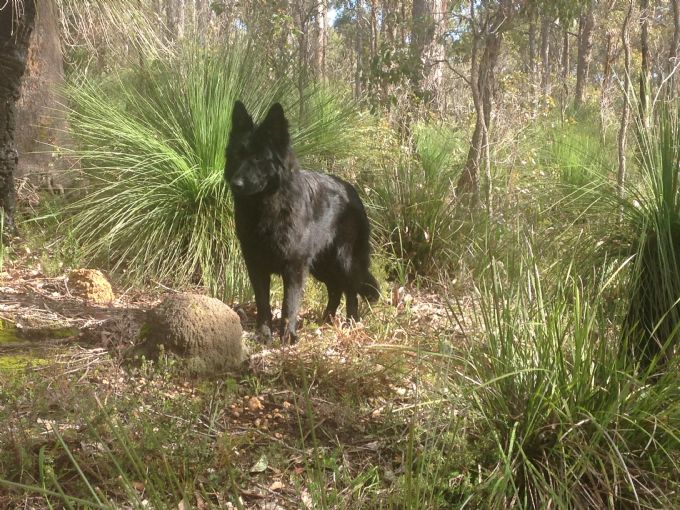 Welcome to Nighthaven Kennels page
In 2011 I became a single mother with 2 young children & 2 Jack Russells. I was living in a really bad area at the time and i was often recieving threats from my ex and I decided to get myself a large dog that would protect us as well as be part of our family. That was when we got our first White Swiss Shepherd. She became very much part of our family and went everywhere with us that we could take her. We attended some dog training and discovered that she loved agility. We then got our second Shepherd, A working Line German Shepherd for companion/play mate for the first one.
We decided we would like to breed with our White Shepherd so i spoke to the breeders and they guided me through all the Xrays & DNA tests that we needed to do before breeding which we did and she passed with great results. We then done a AI in 2014 with a stud over east as there was no locals unrelated. Sadly the AI didn't take so we tried again in 2015 but with a local dog that had just become of age and had also passed the breeding requirements. The mating was successful which we were so excited and couldn't wait for the pups. Mum went into labour just over 8 weeks and things weren't going well so i took her to the vets & ended up doing a C-section as 4 hrs after 2nd stage of labour as pups were starting to get stressed & she was having dark discharge. We were so excited with 3 healthy puppies. 2 boys and 1 girl. Sadly 1 puppy developed some issues with cost Thousands and sadly we still lost him. I was so devastated.
​Since then we have added a few more dogs to our family and we now live on 24 acres of bush. Our dogs follow us around the farm while we are doing chores. All our dogs are raised with chickens, ducks, turkeys, cats and pigs.
​Our dogs runs are runs are 400sm area which gives them a big area to run around and play together. We have a smaller house yard which our chihuahuas come and go between the house and yard and all our puppies are raised in our home and have access the our house yard. Our pups get use to the normal house hold noises, eg tv, vaccum and noisy kids. All our pups get to Go on walks around the farm and meet our farm animals before they leave us and we start their crate training and socialization with people and dogs. They are well socialised outgoing pups.
​​Being that we have only been on the farm for 2 yrs we are still getting things setup the way we want them and getting things established.

I started showing in 2018 and have thoroughly enjoyed it. I talked to mum into start showing with me with her GSD & Chihuahua in 2019. We only show roughly once a month as we live 2 hrs south of Perth (where 95% of the shows are) and as well as having a farm and children.

I also do Lure coursing with my Shepherds and have started some Obedience & Agility. I like to have all my dogs doing an activity.
Our Shepherds run about 3-5km a day depending on the season to keep them in good condition and because these are working dogs after all.

I'd like to add Herding ,Dryland sledding and Tracking to our activities at some point one day :)

Not all Our dogs live with us, Some are with my mum n dad as mum and i now do it together. And we have close friends that have a few as well. We do this to make sure our dogs get the best care and attention and a good life. I do have alot to do with all the dogs that don't live with me and am often taking them to different events if my friends/family can't make it.
Contact Details
Hayley Foan
Boyanup, WA, Australia
Phone : 0410077287
Email : [email protected]
FB Nighthaven German Shepherds & Nighthaven Chihuahuas
Prefered email or FB message, I cant always answer my phone & the signal can be poor.
129604 Visitors