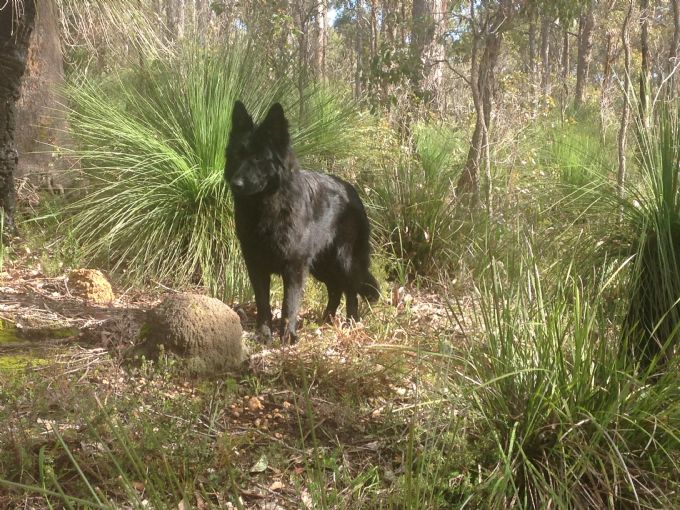 Welcome to Nighthaven Kennels page
In 2011 I became a single mother with 2 young children & 2 Jack Russells. I was living in a really bad area at the time and i was often recieving threats from my ex and I decided to get myself a large dog that would protect us as well as be part of our family. That was when we got our first White Swiss Shepherd. She became very much part of our family and went everywhere with us that we could take her. We attended some dog training and discovered that she loved agility. We then got our second Shepherd, A working Line German Shepherd for companion/play mate for the first one.
We decided we would like to breed with our White Shepherd so i spoke to the breeders and they guided me through all the Xrays & DNA tests that we needed to do before breeding which we did and she passed with great results. We then done a AI in 2014 with a stud over east as there was no locals unrelated. Sadly the AI didn't take so we tried again in 2015 but with a local dog that had just become of age and had also passed the breeding requirements. The mating was successful which we were so excited and couldn't wait for the pups. Mum went into labour just over 8 weeks and things weren't going well so i took her to the vets & ended up doing a C-section 4 hrs after 2nd stage of labour as pups were starting to get stressed & she was having dark discharge. We were so excited with 3 healthy puppies. 2 boys and 1 girl. Over the following weeks I noticed 1 pup wasn't doing thriving like the others and was quite skinny. I had him at the vets often and they couldn't find any reason why he wouldn't be thriving. We then took him to a specialist and got an Xray done when he was 5 weeks old to discover his organs were not in the correct place and most of his organs & intestines were up around his heart. We had the option to put him to sleep or operate to see if we could save him. We decided to give this boy a fighting chance and decided to go ahead with the $$$$ operation. The operation was successful however they discovered he had an infection in his lungs which didn't allow him to breath properly coming out of recover and didn't make it. We were devastated.
Contact Details
Hayley Cusato
Boyanup, WA, Australia
Phone : 0410077287
Email :
[email protected]
00006224 Visitors